Broughty Ferry Baptist Church
Building a Christ centred church
Looking to Christ - growing in Christ - sharing Christ
You are most welcome to join us in our time of worship each Sunday morning at 11am, St Vincent Street, Broughty Ferry. There are also a range of Sunday evening services. More details can be found here.
In addition we run many activities in our church hall in St Vincent Street and in Panmurefield Baptist Centre, Broughty Ferry. Activities include a popular "Boogie Babies" class, Mother and Toddler Group and many more. For more details about the work we do please browse through our website or visit our Facebook and Twitter pages.
What people are saying...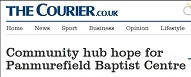 Mark Mackay of Dundee Courier described our Baptist Centre at Panmurefield as "a much-needed community hub for hundreds of families on Dundee's eastern edge." Read the full report here.

Baptist Union of Scotland tweets about our Romance Academy for teenage school pupils. The article they refer to can be found in the May 2015 edition of "Connect".


We have built up quite a following on Facebook and there have been many a lovely comment left for us, including this lot:

- "It's lovely to have a local place to do activities and attend classes with the children"

- "We had a great time at messy play. Isla is already asking if she can go to the next one!"
- "We had a great time so well organised x x"
- "We all had a great time, food and cakes were delicious, thanks again"
(Feedback on Messy Church)

Latest News
15 October 2015


New course starting on 26th October at Panmurefield Baptist Centre. This free course is down to earth and pitched at a level which is easy to understand. Find out more.
Firework Party - Our annual event takes place on 7th November at Panmurefield. More details will be displayed on Facebook or Calendar page
Messy Church - Join us on 7th November and 6th December at Panmurefield. For more details and to see photos from previous sessionsclick here.

Boogie Babies - 7th November and 6th December at 10am, Panmurefield.
Money Course - Christians Against Poverty will be running a Money course within Panmurefield Baptist Centre from 10th November from 7pm to 8.30pm. The course lasts for 3 weeks and is free of charge. Find out more.
Find us online at:

&nbsp